School of Veterinary Medicine and Food Safety
Veterinary Medicine and Food Safety
Degree and Title:
Bachelor's in Veterinary Medicine (BVM), Honors in Food Safety
Bachelor's in Veterinary Medicine (BVM), Honors in Animal Medicine and Surgery
Bachelor's in Veterinary Medicine (BVM), Honors in Pet Animals
Bachelor's in Veterinary Medicine (BVM), Honors in Poultry and Fish Diseases
Study Hours/Academic Levels:
190 credit hours/5 academic levels
Join us and become part of the future of veterinarian. At BUC our work has worldwide impact and you will be taught by some of the top academics and internationally renowned experts in their field. Our degrees are professionally accredited by the Supreme Council of Universities and entitle graduates to practice anywhere in Egypt and in many other countries.
Dear students
Welcome to Faculty of Veterinary Medicine at Badr University in Cairo
We are pleased to present this guide to clarify some of the issues that you will face during your studies, it focuses on the details, the aim of it is to guide and introduce you to the departments and activities of the college, educational services and study methods. It also sheds light on the importance of academic tutoring, which shows the importance of student communication with the academic advisor.
 Dear student, I know that the College of Veterinary Medicine and all its members are exerting their utmost energies and capabilities to become one of the leading colleges at the level of the veterinary medicine sector in Egypt and the world by developing various specializations and teaching methods that are renewable to keep pace with the needs of the labor market by qualifying a group of veterinarians.
The college also creates a coherent and interconnected cognitive environment that serves its students and attracts them to creative growth in various aspects with the aim of transforming from a traditional to an advanced college that elevates veterinary medicine to levels befitting the finest scientific universities.
With my best wishes for success and progress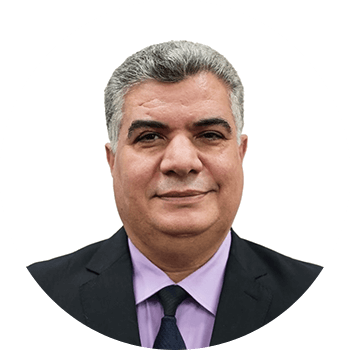 Prof. Dr. Adel Abdelkhalek Sayed Ahmed
Dean of Veterinary Medicine
Our veterinary school buildings have been designed by leading architects, comprising a main teaching facility with lecture theatres and laboratories, a BUC PET Clinic; Skill Labs  and one of largest and most sophisticated high Veterinary Hospital
The central library, based on Campus, includes a large number of innovative veterinary books and publications set out in a relaxing environment, conducive to studying. There are comfortable seating areas, group study areas, a silent study area and private study rooms.
The university offers a learning management system (LMS) for enhancing learning needs in all areas, assignment, examinations and student registration attendance.
1- Morgue
School of veterinary medicine has many advanced museums (including the Museum of Anatomy and the Museum of Structures). The School also has a large morgue equipped with the latest educational and research tools. It includes a hall for preparing anatomical samples and various illustrations. In addition to it has equipped with the latest technologies and modern means in education and scientific research.
2- Histology Lab
The primary goal of histology laboratory was to preserve and study about the morphology of tissues by using histological techniques. The students have an opportunity to processed tissues step by step from grossing, processing, blocking trimming and sectioning, staining and mounting.
3- Biochemistry lab.
 well equipped with modern facilities as well as it provides student with a great experience in developing necessary skills for biochemistry experiments. The veterinary students in biochemistry lab. able to observe, hands-on experience, practice, design, carry out, analyze, and interpret experiments.
4- Animal behavior and management
The lab. provides an important resource for student's educators, researchers and practitioners who want to explore and study animal behavior. Understanding how and why animals do what they do about the mechanisms and the functions of animal behaviour, integrating our extensive experimental work with theoretical approaches.
5-physiology lab.
Physiology lab. provide veterinary students with hands-on access to modern techniques in animal physiological analyses.  This is to offer them the opportunity to gain knowledge and understanding through experimental physiological observations on living animals, organ preparations and tissue cultures.
6- Pharmacology lab.
The school has a Pharmacology lab. which the students learn how to handle animals and learn the pharmacokinetic principles. In addition, students investigate some of the responses of tissue preparation to several drugs, ranging from dose–response studies to demonstration of selective antagonism.
7. Nutrition lab.
Equipment in animal nutrition lab is mainly focusing on the evaluation and analysis of different feed ingredients. Tools are available for determining energy, protein, fat, and fiber as well as moisture content in different feeds.
8- Food Safety Lab
The Food safety lab. investigate and examining environmental (microbiological) factors that can affect food quality, longevity, and safety of raw materials, prepared ingredients, and finished products. It is equipped with cutting-edge technology and experts using the most up-to-date testing standards.
9- Skill Lab
The skill lab. is an educational facility which gives the undergraduates students the opportunity to be trained and learned a relevant clinical and communication skills they can use in their clinical practice with real animal hospital. The major goal is to give them a stimulated environment which stimulates the patient in actual hospital or clinic settings.
10- microbiology lab
The microbiology lab deals with detecting, culturing, and identifying microorganisms like bacteria, fungi, viruses, etc. The laboratory provides the fundamental microbiology laboratory techniques include aseptic techniques, culturing techniques, enumerating bacteria, and identifying different classes of microorganisms. Therefore, the efficient use of these microbiological tools provides a student with deeper understanding of microbial life.
11-Parasitology lab.
Parasitology lab aimed to offer a first class diagnostic and reference facility for the diagnosis of parasitic infections. Also, students strongly committed to identification of animal parasites and their diagnosis, and to the provision of training for students.
12- Meat Hygiene Lab
Meat and meat products are the major contributor for protein rich foods in the food industry. So; at meat hygiene lab we study types of food adulteration, how to determine spoiled food, types of meat preservatives and how to detect them in meat and their harmful effect on human health, determination of microorganisms in meat and meat products.
13-Pathology lab:
Pathology laboratories exist to aid doctors in laboratory testing and to study and interpret results of biopsies and other specimens gross and microscopic. Pathology laboratories may be found as standalone facilities, but these pathology laboratories may also be found within hospitals to help the medical team better understand the causes of various diseases.
Food Health and Safety Program
Food inspector at the Ministry of Health
Food inspector in customs, sea, air, and land ports
Food safety manager for restaurants and hotels
Director of food safety in airlines and maritime transport
Director of food safety in hospitals, university cities, and governmental and private care homes.
References for food safety and quality systems in quality companies
Working in governmental and private food analysis laboratories.
Faculty Members, Ph.D. holders.
Animal Medicine and Surgery Program
Governmental veterinarian (directorates, units of veterinary medicine)
Veterinarian in zoos
Veterinarian in animal production farms (cows, sheep, and buffaloes)
Veterinary medicine general specialty
Free veterinarian, specialty farm animals
Representative/sales manager in veterinary pharmaceutical companies
Pet Animals Program
Free veterinarian specialty pets
Representative/sales manager in veterinary pharmaceutical companies
Poultry and Fish Diseases
Free veterinarian specialty Poultry and Fish Diseases
Representative/sales manager in veterinary pharmaceutical companies
Veterinarian in poultry farms
Veterinarian in fish production farms
To obtain a bachelor's degree:
1- The student has successfully passed the number of credit hours required for graduation (190 credit hours) divided into levels of study
First level: 38 compulsory credit hours.
The second level: 35 credit hours, including 33 compulsory hours and 2 elective hours.
  The third level: 35 credit hours, including 32 compulsory hours and 3 elective hours.
The fourth level: 41 credit hours, which include (39 compulsory hours and 2 elective hours).
The fifth level: 41 credit hours, which include (39 compulsory 2 elective hours).
2- Successfully performing practical training in accordance with the provisions of Article (13).
3- He successfully passed the graduation project (for the Food Safety Excellence Program only)
4- The student's CGPA upon graduation should not be less than 2.4 as a minimum.
-Degree and title:
1- Bachelor of Veterinary Medicine (BVM), Honors in Food Safety
2- Bachelor of Veterinary Medicine (BVM), Honors in Animal Medicine and Surgery
3- Bachelor of Veterinary Medicine (BVM), Honors in Pet Animals
4- Bachelor of Veterinary Medicine (BVM), Honors in Poultry and Fish Diseases